2010 FORMULA 1 WORLD CHAMPIONSHIP
ROUND 1 – GULF AIR BAHRAIN GRAND PRIX
Oracle of Oviedo. Fernando Alonso. After "Maestro", "Il leone" and "Ice Man" "muy macho hombre de Espana" makes a winning debut for Ferrari in Bahrain. After passing from row starting teammate Massa on the opening lap Alonso was able to catch pole sitter, Sebastian Vettel, and stayed within striking distance before mechanical gremlins caused the German to lose power in his Red Bull. Victory is number 22 for the Spaniard. After enduring crash-gate at Renault and cage-rattling at McLaren he is now poised to win the championship for prancing horse sooner or later.
Heppenheim Happening. Sebastian Vettel. Won the final race of the 2009 season and started the 2010 campaign from pole position. Red Bull racing prodigy won 18 of 20 races on his way to winning the Formula BMW Germany championship in his "younger" days. Splashed his way to become youngest Grand Prix winner in the rain at Monza in 2008. Sunday he was on his way to score his sixth Grand Prix win but loss of power saw him slip to fourth.
Date with destiny. Felipe Massa. Won races with Schumacher and Raikkonen as teammates. Now paired with Alonso, the two famously argued in Italian after the 2007 European Grand Prix at Nurburgring. Hoping to become Brazil's first world champion since the late Ayrton Senna in 1991. While Raikkonen hit the snooze button in 2008, Massa battled Hamilton for the championship all the way to the final corner of the final lap. Few who saw the emotions of the Massa family would ever forget the moment. Second place on Sunday was his best start to an F1 season.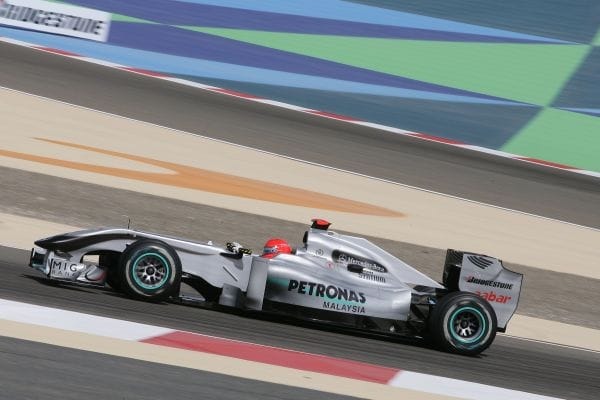 Das Comeback. Michael "The Full" Schumacher. Like Senna, failed to win the world championship of karting but set new standards and records in Formula 1. Relentless and ruthless, dedicated and determined, Schumacher is back in the saddle after three years of retirement. Now driving for Mercedes, the same people who wrote a check to Eddie Jordan in 1991 for a moment in Spa. Rest is history, and may be re-written this year if the package is competitive.
Russian in F1 orbit. Vitaly Petrov. "The Vyborg Rocket" was powered by success in GP2 and last year was runner-up to Nico Hulkenberg. Replacing Romain Grosjean with financial help from his country's largest automobile manufacturer Lada, now part owned by Renault. Petrov will look for solidarity and guidance from his fellow East European and teammate, Robert Kubica. The Russian retired on lap 13.
Sushi and Sayonara. Kamui Kobayashi. Won the GP2 Asia series but made little impression in main series. Then drove his heart out in the final two races of the 2009 season for Toyota. When the Japanese automobile giant said Sayonara to Formula 1, Kobayashi was ready to head back home and earn a living in family sushi restaurant in Tokyo. Now at Sauber he aims to give Japanese racing fans hope after the departure of both Toyota and Honda, soon to be joined by Bridgestone. His race lasted 11 laps.
Man from Uncle. Bruno Senna. After two false starts, Honda and Campos, Bruno is in F1, finally. The yellow helmet and the last name are known around the world of motor racing. GP2 race winning credentials and good character should help him achieve success his late great uncle predicted when he said, "If you think I am fast, wait till you see my nephew."
Class of 2010. From rookies to returning retiree. Four world champions grace the field, Schumacher, Alonso, Hamilton and Button. Rookies include GP2 champion and another Willi Weber client Nico Hulkenberg and Lucas di Grassi and Karun Chandok. The grid also features the second coming via Kuala Lumpur of Lotus, Virgin-of music and aviation fame, and Spanish owned HRT featuring "Chavski", the Romanian born-German dentist Dr. Colin Kolles.
[audio:http://www.podtrac.com/pts/redirect.mp3/mp3.f1weekly.com/podcasts/03-15-10f1weekly413.mp3]