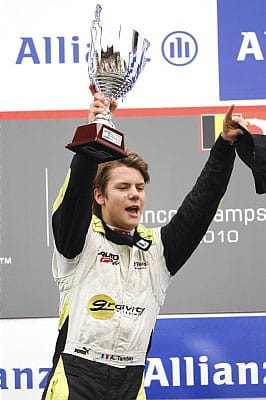 Photo: GP3 Media
Tambay Triumphs! Looks are familiar, and so is the winning tradition. Adrien Tambay, son of Grand Prix winning driver Patrick, put on an impressive performance in changing conditions to score his first victory in GP3 series. The second race on Sunday saw Adrien start the race from P27 on the grid.
"Yes, actually 27 is a good number, it's my lucky number," explained the Frenchman.
Showers on lap 4 saw drivers dive into pits for wet tires; the only exception was Adrien who took the opportunity to grab the lead in slippery conditions. That lead evaporated as Miki Monras from Spain and Alexander Rossi from northern California chased down Tambay.
The American took second place and launched an all out attack on Adrien for the win. The pressure was intense, Adrien described the challenge in post-race interview; "I stayed calm and I know Alexander very well and we have raced together before, I know he is a fair driver so there was no problem. He is looking after his championship and knew I had nothing to lose as well so it ended in a good way".
The number 27 has special meaning for the Tambay family. Patrick Tambay was a close friend of Gilles Villeneuve, and was Ferrari's choice to replace the Canadian legend during the 1982 season. Tambay went on to win the German Grand Prix where teammate Didier Pironi suffered career ending leg injuries, and in 1983 took an emotional win at Imola in the San Marino Grand Prix.
Adrien's next race in GP3 is the final round at Monza where Papa finished second in a Ferrari in the 1982 Italian Grand Prix.
– Nasir Hameed
Le Regards from Californie