Fernando Alonso takes a fantastic victory at Silverstone.
On the final lap Red Bull tell Mark Webber to hold position.
Lewis Hamilton collides with Massa and keeps fourth place.
A missing wheel nut takes Button out of the Grand Prix.
Podcast 514 will have Clark and Steve's race recap.
Fernando Alonso: Obviously it is a huge boost for us," said Alonso. "We were confident of being quick here at Silverstone.
No doubts it was a race that had one red cross because it was not an easy grand prix for us; the characteristics of the corners, and the layout were never our strongest points.
We knew that Silverstone, like Barcelona, was difficult for us, so winning here is a good motivation for everyone and gives us confidence approaching the next few races.
We will try to enjoy the moment, the win and work hard. We will have the same approach as we had in Malaysia and we had in Canada and here as well. It is a weekend to try to go for the victory, to try to go for the race.
There are not championship thoughts at the moment because the gap is massive to Seb. We need to enjoy every weekend, and there is no time to think about anything."
Mark Webber: "I am not fine with it, no. That is the answer to that.
If Fernando retires on the last lap, we are fighting for the win.
Of course I ignored the team because I wanted to try and get a place. Seb was doing his best, I was doing my best. I wasn't going to crash with anyone.
I try to do my best with the amount of one way conversation I was having – I was trying to do my best to pass the guy in front."
I just want to race until the end. Four or five laps to go, they started to chat to me about holding my position. I wanted the points but I also wanted to get some more points as well."
Pos  Driver        Team                       Time
 1.  Alonso        Ferrari                    1h28:41.194
 2.  Vettel        Red Bull-Renault           +    16.511
 3.  Webber        Red Bull-Renault           +    16.947
 4.  Hamilton      McLaren-Mercedes           +    28.986
 5.  Massa         Ferrari                    +    29.010
 6.  Rosberg       Mercedes                   +  1:00.665
 7.  Perez         Sauber-Ferrari             +  1:05.590
 8.  Heidfeld      Renault                    +  1:15.542
 9.  Schumacher    Mercedes                   +  1:17.912
10.  Alguersuari   Toro Rosso-Ferrari         +  1:19.108
11.  Sutil         Force India-Mercedes       +  1:19.712
12.  Petrov        Renault                    +  1:20.600
13.  Barrichello   Williams-Cosworth          +  1 lap
14.  Maldonado     Williams-Cosworth          +  1 lap
15.  Di Resta      Force India-Mercedes       +  1 lap
16.  Glock         Virgin-Cosworth            +  2 laps
17.  D'Ambrosio    Virgin-Cosworth            +  2 laps
18.  Liuzzi        HRT-Cosworth               +  2 laps
19.  Ricciardo     HRT-Cosworth               +  3 laps        
Grosjean sprints to Silverstone victory
Romain Grosjean has solidified his lead in the title race after fighting his way to victory in this morning's sprint race in Silverstone, muscling his way past Dani Clos and Giedo van der Garde before easing away from his rivals for his third win of the season.
The Frenchman had some work to do from fifth on the grid, but his job was made easier as the lights went out when front row starter Stefano Coletti stalled, giving poleman van der Garde a clean run to the first turn ahead of Clos, Sam Bird, Grosjean, Christian Vietoris and Marcus Ericsson: the lead pair were soon banging wheels until the Spaniard took the top spot at turn 4, with Grosjean dispatching Bird behind them.
With the order shaken out everyone looked to protect their tyres for the first dry period of the weekend, running well under the lap times of Coletti a lap behind them: it wasn't until the halfway point that Grosjean started to look for a way past his title rival. It was clear that he had a much better handling car than his rivals, and he easily dispatched van der Garde on lap 14 in the new loop corner, while Ericsson finally overtook Vietoris after a long battle behind them.
Two laps later Grosjean blew past Clos for the lead at Copse and disappeared into the distance, with Jules Bianchi disposing of the Spaniard's teammate for sixth position a few seconds later at the same corner. Ericsson was on a charge too, quickly clearing his teammate and heading off after van der Garde, who was catching Clos at a great rate himself.
And when the chequered flag dropped it was Grosjean who claimed the victory by seven seconds from Clos, who had van der Garde and Ericsson all over his rear wing. Bianchi slipped past Bird for fifth when the Englishman had a huge lock up with two laps remaining: the local driver was a disappointed sixth after hoping for so much more from his local race.
Grosjean's strong weekend has allowed him to also ease away from van der Garde in the title race: the Frenchman now leads by 47 points to 38, with Bird a further six points back on 32. Addax also retain the lead in the teams' title with 62 points, with iSport on 49 points and DAMS two points behind their English rivals ahead of the next round at the Nurburgring, in two weeks time.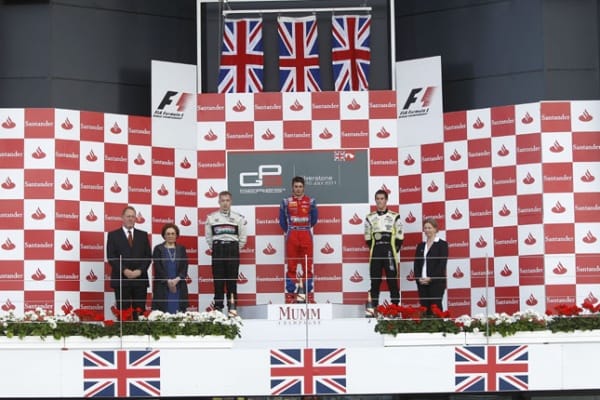 Williamson wins home race
MW Arden's Lewis Williamson won his first GP3 Series race today in front of his home crowd at Silverstone Circuit. The Scot finished ahead of Addax team's Dean Smith and Status Grand Prix's Alexander Sims to lead an all British podium, and was the eighth different winner this season.
The dry conditions for race two this morning were a far cry from yesterday's pre-race downpour. Poleman Smith held onto his lead when the light went off, whilst Williamson made a bad start off the line dropping to fifth allowing James Calado up into second and Nick Yelloly into third. Adrian Quaife-Hobbs' weekend went from bad to worse when a mechanical problem prevented him from pulling away from fifth on the formation lap and starting from the pitlane.
Williamson recovered from his slow getaway brilliantly, and after a three-way battle and a couple of good overtaking maneuvers to pass Calado and Smith, the Scotsman was back into the lead by the end of lap one. Yelloly and Alexander Sims were running in fourth and fifth respectively, but it was Rio Haryanto who was on a mission – the Marussia Manor Racing driver started the race from tenth, and by the end of lap two had passed yesterday's race winner Nico Müller to take sixth spot.
A fight then ensued between Sims, Haryanto and Muller, with the Brit and the Indonesian both finding a way passed Muller on lap 6. Sims then set his sights on Calado and the final podium position, whilst still defending hard from a charging Haryanto. Williamson meanwhile was 3.5 seconds ahead of the pack.
As the race came to a close, Calado was doing everything in his power to hold back Sims, but the Status driver was unstoppable finding a way past the Lotus ART driver with two laps remaining. Calado then went wide loosing another spot to Hayanto. Williamson drove a faultless race to claim his first victory ahead of Smith and Sims. Haryanto, Calado and Yelloly took the remaining available. Third place man in the standings Nigel Melker had a great race moving up from twenty-seventh to eighth, but leaves Silverstone point-less. Series leader Mitch Evans' weekend went from bad to worse after a first lap retirement meant the Kiwi also leaves Silverstone with no points.
Sims has now moved into the lead of the Series by three points. MW Arden continues to lead the teams' standing with forty-five points after becoming the first team this season to win more than one race.