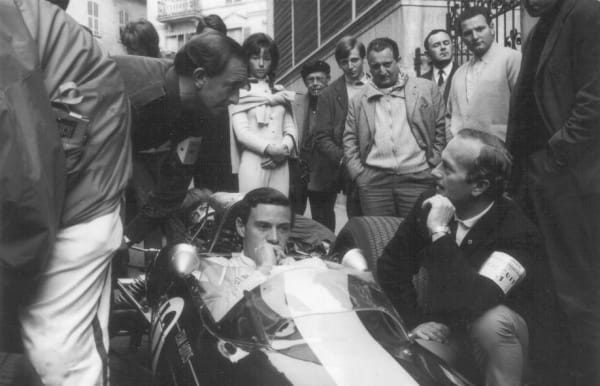 Folks, cage rattling is nothing new in Formula 1. Just like Peggy Lee's Fever cage rattling started long ago. And some drivers did sizzle out.
We start with the 1963 season when Monte Carlo was the season opener. Jim Clark won the first of his two championships, winning seven of the ten races, and scoring 63 points. He was on the podium in every race except for the season opener.
His teammate was Trevor Taylor. He finished 16th and had only one point to his name at the end of the season.
In 1969, another Scottish driver won the first of his three championships. Jackie Stewart scored 63 point, won six of the eleven races – including fice of the first six.
His teammate was Jean Pierre Beltoise, he finished fifth with 21 points and no wins. His best finish was second in his home grand prix at Clermont Ferrand.
1972, a season to remember for Emerson Fittipaldi. The man from Morumbi in Sao Paulo, becomes the youngest and first Brazilian world champion at the age of 25, taking five wins, finished on the podium in eight of the 12 races and scored 61 points.
For his teammate, Dave Walker from Australia, a season to forget, he did not even score a single point. This from a driver who was British F3 Champion in 1971…..but then again, they say some Lotus 72s are more equal than others. Welcome to the world of ACBC.
1976, fun loving and party boy James Hunt on the Neil Sedaka programme in the season finale at Mt Fuji track, laughter and championship in the rain as championship leader Niki Laua calls it quits after a few laps
Hunt's tally of 69 points included six wins while his teammate Jochen Mass went winless and finished 9th with 19 points.
1981 – Nelson Piquet picks the first of his three championships driving for Bernie Ecclestone on a handshake deal, scoring 50 points, one more than Reutemann, with three wins. His Mexican teammate Hector Rebaque was 10 in the championship with 11 points.
Rebaque's F1 career was over but he got himself on the Mexican radio by winning the Indy car race at Road America the following year.
1982 Keke is King. The season and championship should have belonged to one of the Ferrari drivers in their beautiful 126C2, but the tragic season saw Gilles Villeneuve crash fatally at Zolder while trying to better teammate Didier Pironi's time – and Pironi himself crashed into the Renault of fellow Francaise Alain Prost while leading the championship.
Keke Rosberg's teammate was Derek Daly, who was 13th in the final standings with 8 points.
Two items stand out for Rosberg from this season. His only victory came in the Swiss Grand Prix at Dijon Prenois –and his great battle to the finish line with Elio de Angelis in the Austrian Grand Prix – highly recommended on You Tube by the Bradford Exchange.
In 1984 Niki Lauda won his third and final championship with McLaren. In 1985, the super rat was cornered like a rat by the little frog. Alain Prost takes championship # 1 of 4 with 73 points, and five wins.
Lauda was tenth with only 14 points.
Warerloo or Honolulu, in motor racing, as Derek Daly said, there is no place to hide. You don't even need Martha Reeves on your team.
Nasir Hameed