STYLE   SPEED   SEATTER
From Lella Lombardi and Janet Guthrie to Michelle Mouton and Danica Patrick, ladies have come a long way in motorsports.

Meet Miss Natasha Seatter. The Malaysian racer recently became the first female to win a race in the United Arab Emirates. Seatter has been setting the pace from her younger days in karting and Formula BMW single-seaters.

F1Weekly would like to thank Natasha for taking her time to answer our questions, and wish her much success in her racing career.

Q. Congratulations on your victory in Formula Gulf 1000 race. Winning the race by passing championship leader and setting the fastest lap has to be very special feeling for you?
A. Thank you, it's true that winning races is every driver's goal but it takes a lot of training, hard work and persistence before that happens. Beating the championship leader is a real confidence booster for me and I really had to focus on not making any mistakes.
Q. Is this the biggest win of your racing life?
A. Quite honestly, yes. It was particularly important as it is my first international win since turning professional as a 17-year-old-rookie. You can call it a 'coming of age' in career terms. Now I feel I have proven my credentials as a senior competitor.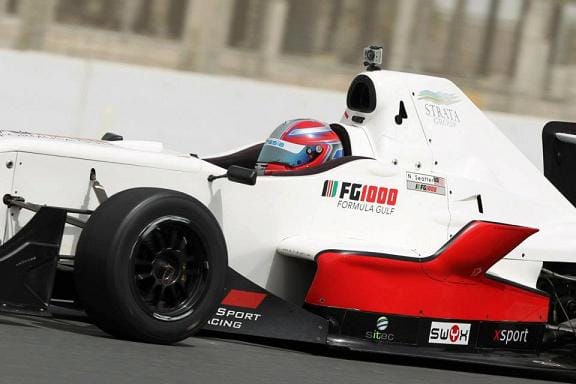 Q. What are your plans for rest of the season?
A. As far as Formula Gulf is concerned I just want to try and consolidate my experience and race strategy as a front runner. It's a different mentality to chase the guy in front than be hunted by the pack! Of course, getting on the podium is always my goal but a top three championship result is very important.
I have some junior driver training commitments mid-year in South East Asia and I will compete in some national events in Malaysia.  It's also my dream to compete in Europe or USA so if I am given the opportunity and sponsorship to do so I would love to race with the world's best drivers in whatever category.  
Q. Last two years you raced in Formula BMW cars, are you satisfied with the progress you have made as a single-seater racing driver?
A. Formula BMW is THE series for developing your talent as a professional driver. It is fast, competitive and really separates the men from the boys. I started at the back of the grid in my first year, but last year I was a top 10 driver and had several top 5 results. I have since had podiums in more advanced formula racing series so, yes, I am happy with my progress. 
Q. You have also raced at the Ordos circuit in Chinese Mongolia; what was that experience like?
A. It was TOTALLY overwhelming from all aspects. It was my first ever experience racing at a higher level with some seriously talented senior drivers in very fast, turbo powered Formula car with huge levels of down force and grip compared to Formula BMW. It was also my first visit to the Ordos track in Inner Mongolia and that was also a strange experience from a cultural perspective. Fortunately, I was with my usual race team and they got me up to pace without any accidents or incidents. Although I only qualified p7 I managed podium finishes for both races. I didn't expect that!
Q. I understand you have also driven an F1 car; this has to be the most exciting experience for any young driver?
A. Wow, yes those cars are awesome. I was selected by Lotus group to participate in a testing with their T125 car in Abu Dhabi at the beautiful Yas Marina circuit. I was so lucky as my driver coaches were ex-Formula 1 legends, Nigel Mansell and Jean Alesi. I really learnt a lot from them when we raced together on circuit as part of the training and assessment program. They treated me as a proper racer after that and I felt very good about it.
Natasha with mom and dad, he is from the land of Jim Clark and Jackie Stewart.
Q. Your passion for motorsports comes from your dad; please tell us about his racing activities?
A. Dad is a GT racer, closed wheel, limited down force but lots of raw power. He participated in the Malaysian Super Series and for several years he achieved the occasional podium. However, last year he was on the top step of almost every race and I am proud to say he won the Open Class Championship in his Mazda GT.
This year he is doing the classic car racing series in his 1969 Lotus Élan. It's a very fast car with terrific handling and can even keep up with today's modern Lotus Elise! My Dad lets me help set up his cars, so that's fun. 
Q. Not so long also, at the age of 12 your dad took you to a Rotax karting event; what do you remember most from that important day in your life?
A. I can still remember that day vividly. There was a lot of noise, speed, hustle and bustle. The drivers looked like such heroes to me and I asked my Dad if there was something girls could do like that. I will never forget his reply when told me girls could also participate in the same event if they were prepared to be as brave as the boys. I made my mind up right there and then to be a driver. 
Q. After starting in karting yourself, how long was it before you decided to pursue racing as a career?
A. I was offered a chance by Petronas to participate in their Formula BMW young driver PFX series when I was 15 years old. At the end of the nine month training I won 1st place in all four PFX races (first ever in history) and I was the only female racer! And was offered a sponsored drive with Petronas in the 2010 Formula BMW series. That's when I decided to make racing my career. 
Q. You have two sisters; are they also planning to follow in your racing footsteps?
A. Ha ha, no way! All of us did karting for the first year but they preferred running tracks and team games to motor racing. Actually they win lots of gold medals and are really good athletes. My sister Kat is a varsity player in volley ball and my youngest sister Shaz is a champion 400m runner and plays rugby. 
Q. Sepang circuit in your country is very nice; how popular is karting and single-seater racing among the local community?
A. Malaysians are seriously crazy about all their motorsports including motor bikes. We have several circuits for cars, bikes and karts and the grids can be quite packed. Now we also have lots of Japanese and Chinese racers coming over to participate in our international events so it's true to say that Malaysia is on the motor sports map.  
Q. You have raced all over Asia, is the competition in Japan tougher than other Asian countries?
A. Japanese drivers are very competitive, have great training to hone their skills and are ruthless on track. They can't stand losing as it's a great loss of face so they give everything (and often a little bit more). I love racing and winning in Japan but you have to get ahead very early in the race or you will get taken out.
Q. According to your Facebook page, you are also a trainee pilot; given the choice what will be your preference; pilot of a jet liner or pilot of an F1 machine?
A. No hesitation about that, F1 pilot! Now if you had included being an aerobatic pilot in the Red Bull air racing series I might have hesitated!
Q. There is a lot of Girl Power in motorsports, you, Michele Bumgarner of Philippines, Vicky Piria of Italy, Michelle Gatting of Denmark, are you friends with any of these lady racers?
A. I would love to meet them one day!!
Q. Where would you like to be racing in five years?

A. I would like to be involved in Indy Cars in America. Danica Patrick has left a huge vacancy with her switch to NASCAR. It's such a huge series and Americans are so passionate with terrific crowds and sponsorships and there are not many females in the sport!
Special thanks to Natasha's PR Manager Mama Datin Ida for her help in this interview.
— Nasir Hameed