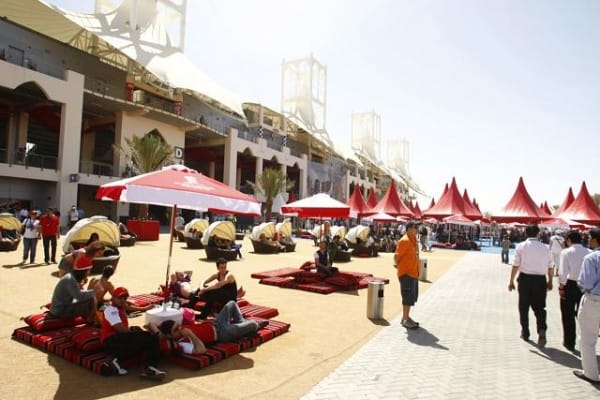 2012 Bahrain GP Preview

Kimi Räikkönen: "A podium should be possible"

Having come agonisingly close to a great result in China, Kimi puts the past behind him and focuses on his next chance for glory in Bahrain

The Chinese Grand Prix was full of action; how was it from your position?
It was good racing but we ran out of tyre performance during the final stint. I felt comfortable in the car and I could push well, but we lost out in the end. I was not able to get past Felipe (Massa) in the middle part of the race, and I wasn't able to keep Sebastian (Vettel) behind me, but there is still good speed in the car.
What happened when Sebastian got past you?
I had been keeping him behind me, but finally my tyres were too far gone for me to keep him there. I went wide and then I was on the marbles. I had very little traction on the loose stuff and because it was so close a lot of cars went past me. It was then too late to make another stop so it was frustrating. It was the strategy we chose, and I wouldn't have been fighting for second if we'd gone for a three stop. Maybe we should have run a longer second stint, as that worked for Romain. We learnt a lot about the tyres.
Are you frustrated the strategy chosen didn't work?
It looked the best one for us and it worked for Romain. If we had the same information again, we'd probably try the same approach.
It didn't work, but you don't know these things unless you try them.
We will now know better for next time. We were pretty close to finishing on the podium. We didn't. That's racing.
You were racing wheel-to-wheel at times during the race. How was that?
It is what I missed when I was rallying, and it's good to be racing against other cars like that. It was very close at times, but it's called racing so that's what you do.
I thought it must have looked good on television for anyone watching.
I look forward to racing more like that this season.
The team wasn't able to maximise the latest upgrade package at Shanghai – how frustrating was that for you as a driver?
We had a lot of parts but it was wet on Friday morning and very cold in the afternoon. We went back to most of the old spec for Saturday as we knew how it worked. Qualifying was okay, but there was a bigger gap to pole which wasn't what we wanted. We didn't make the car faster which some others did with theirs. The E20 still feels good to drive, but we just need to get a little bit more speed. Hopefully we will find it in Bahrain.
What are your thoughts of the Bahrain International Circuit?
I don't think it will present any particular problems for us. It's likely to be quite hot and our car didn't like the cold so much when we were in China so maybe the heat will suit us better. The track has a mixture of corners and it's quite fun to race on. There are some opportunities to overtake so let's see what happens.
It's another circuit where you have finished on the podium…
I have had a second and three third places in Bahrain which is okay. It is good to race there. We won't know how strong the car will be until we get there. Maybe we will get the upgrades on the car to work properly and we will be able to go faster than in China. Let's see.
How have you enjoyed the first three races?
It's not that different to what it was like before. I don't like the travel so much as the first races are so far away from home, but soon we will be racing in Europe. When you're at the track and in the car you know what you have to do, so it doesn't matter so much about the other stuff. When I'm in the car it feels good, and we're all working to get faster.
Do you think the team is capable of a strong result in Bahrain?
A podium should be possible and I think it has been at all the races we've been at so far. We don't know exactly how good the car will be until we get there, but we don't expect any problems.
Romain Grosjean: "Next time is going to be even better"

Romain achieved the best result of his Formula 1 career in China; just the tonic after a difficult start to the season. Now, the Frenchman is looking to carry that momentum to Bahrain

How did it feel to score your first points in Formula 1 last weekend?
I'm very pleased for myself, for the team, for all the hard work we've done. We deserved finally a good result. We did an amazing job to recover from our free practice pace, which was not that good, but at the end of the story we got back where we should be.
As Kimi showed, it was a strategy which was very marginal on tyres, how was that from behind the wheel?
I knew it was going to be tight for tyres and did my best to save them. It's always difficult when you are on a risky strategy to the cars coming from behind you. The McLarens and Red Bulls were attacking with new tyres so I wasn't sure what to expect.
How nervous were you at the start of the race?
My start was very good, but then Fernando (Alonso) went on the right side and I was blocked behind him. I couldn't do much. Then unfortunately Felipe (Massa) came from the outside, a good move from him, and got in front of me. He held me off for all the first stint, which was not very good for me or my race, but then the second stint was amazing.
What about the rest of the race?
The pace was really good. I started the third stint the same and then we caught back to Felipe (Massa) again. Kimi was behind Sebastian (Vettel) and myself and then Jenson (Button) joined. It was very tight between us and difficult to overtake. And then the guys with new tyres came in the middle. You can always say that without Felipe (Massa) holding us maybe it would have been a different story, but anyway we knew we had to take care of the tyres. The car felt very good today and it gives me a lot of confidence for Bahrain.
You seemed to be in traffic a lot of the time in Shanghai?
It's really frustrating not to be able to overtake! I think overtaking was quite tough on Sunday, even with the very long straight. It was really difficult for everybody. I was blocked behind Kamui (Kobayashi) and I think my pace was much better than what I was doing, but this is part of the race. You know sometimes you will have some traffic and sometimes be in free air. The strategy guys do their best to give you some free air and some laps to do by your own.
Overall, how do you assess your first points finishing performance in Formula 1?
I think we had more or less everything right with just some small mistakes. Next time is going to be even better.
You've experienced Bahrain before in the 2008 GP2 Asia series; does it bring back good memories?
Definitely. I raced there with the ART Grand Prix team and we took pole position, fastest lap and the win – it's always nice to get a full house! I've also got quite a lot of experience there from 2010 when I was a test driver for Pirelli, so hopefully this will help me get up to speed quickly in the E20.
The layout of the circuit has been altered since you last drove there, so there will surely be some learning still to do…
It's true that the configuration has changed, but the 2010 layout was only used for that season, and will return to its previous format for this year. I guess I'm quite lucky really, as I've driven the track in both forms so there will be no problem at all there.
Do you think you will enjoy racing a Formula 1 car at the Bahrain International Circuit?
Whether you enjoy driving at a track depends on the car. With a good car you enjoy the track, with a bad car you don't! Bahrain is a good track. It has some big braking which I quite like, some interesting changes of direction like the double-left in the middle of the racetrack… I think the E20 will be nice there. The balance we have is pretty good and I'm sure we can achieve something strong.
What are you hoping for at the next race?
I want to be able to put a proper qualifying and proper race all together. I think the car will be good there. The weather should stay the same throughout the weekend – hopefully! Let's see what we can do.