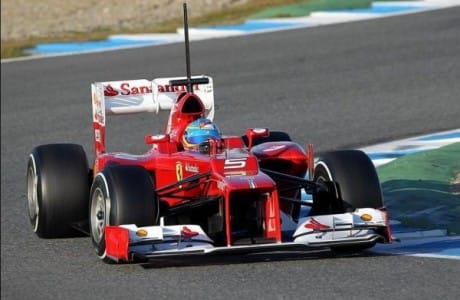 Fernando Alonso takes pole in disrupted Silverstone qualifying
"We are happy with pole position after nearly two years for Ferrari. For Ferrari it's a long time," said Alonso. "With these weather conditions the qualifying is one of the least important of the year, because everything will be mixed after a few laps tomorrow, but with visibility it's better to start at the front so I am happy.
Ferrari was near the back of the pack when qualifying was red-flagged for an hour and a half due to the level of standing water on the track, having made the wrong tyre choice of intermediates for the start of Q2.
In wet conditions you never know, you need to be in the right place at the right time when you do the lap, and the lap has to be clean with no huge mistakes," he said. "When you find yourself on pole position that can be surprising.
It was impossible to run – a good decision to red flag and also a good decision waiting for the time the circuit was in condition to run again, Sometimes we criticise the decisions when we are not happy with them, today they are doing a very good job. First priority was safety."
Pos Driver Team Time Gap 
 1.  Fernando Alonso       Ferrari              1m51.746s   
 2.  Mark Webber           Red Bull-Renault     1m51.793s  + 0.047 
 3.  Michael Schumacher    Mercedes             1m52.020s  + 0.274 
 4.  Sebastian Vettel      Red Bull-Renault     1m52.199s  + 0.453 
 5.  Felipe Massa          Ferrari              1m53.065s  + 1.319 
 6.  Kimi Raikkonen        Lotus-Renault        1m53.290s  + 1.544 
 7.  Pastor Maldonado      Williams-Renault     1m53.539s  + 1.793 
 8.  Lewis Hamilton        McLaren-Mercedes     1m53.543s  + 1.797 
 9.  Nico Hulkenberg       Force India-Mercedes 1m54.382s  + 2.636 
10.  Romain Grosjean       Lotus-Renault        no time
Q2 cut-off time: 1m56.931s Gap **
11.  Paul di Resta         Force India-Mercedes 1m57.009s  + 2.112
12.  Kamui Kobayashi       Sauber-Ferrari       1m57.071s  + 2.174
13.  Nico Rosberg          Mercedes             1m57.108s  + 2.211
14.  Daniel Ricciardo      Toro Rosso-Ferrari   1m57.132s  + 2.235
15.  Bruno Senna           Williams-Renault     1m57.426s  + 2.529
16.  Jean-Eric Vergne      Toro Rosso-Ferrari   1m57.719s  + 2.822
17.  Sergio Perez          Sauber-Ferrari       1m57.895s  + 2.998
Q1 cut-off time: 1m47.105s Gap *
18.  Jenson Button         McLaren-Mercedes     1m48.044s  + 1.765
19.  Vitaly Petrov         Caterham-Renault     1m49.027s  + 2.748
20.  Heikki Kovalainen     Caterham-Renault     1m49.477s  + 3.198
21.  Timo Glock            Marussia-Cosworth    1m51.618s  + 5.339
22.  Pedro de la Rosa      HRT-Cosworth         1m52.742s  + 6.463
23.  Narain Karthikeyan    HRT-Cosworth         1m53.040s  + 6.761
24.  Charles Pic           Marussia-Cosworth    1m54.143s  + 7.864