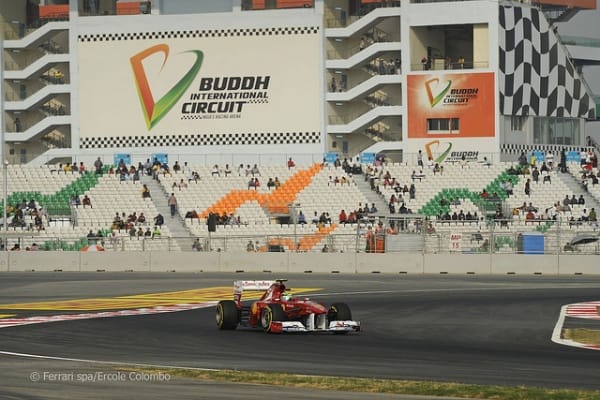 F1 DRIVERS ON THE UPCOMING INDIAN GRAND PRIX

Mark Webber: "It's a challenging venue and I really enjoy the track, it's a nice circuit to drive. There was a massive crowd there last year and it was a good atmosphere. The track is similar to Korea with mainly long straights in sector 1 followed by a very busy sector 2 and 3, so we need to get the balance right between downforce and top speed. It should be reasonably straightforward weather-wise and I'm looking forward to getting out there."
Sebastian Vettel: "I loved the track layout last year, but not just because I won the race. With an average speed of 235kph, the course is the second quickest of the year after Monza. There is a lot of elevation change around the lap which adds to the fun, from as much as 8% downhill and up to 10% uphill; it's like a roller coaster! It really has emerged as one of the most challenging circuits on the calendar for the drivers."
Pastor Maldonado: India is enjoyable because it's so different and the track is one of my favourites. It's still a new track but it has a good combination of medium and high speed corners, chicanes and good changes in direction. Coming to the final few races, making the most of our cars potential is going to be important, so hopefully we can score points here and put ourselves in a strong position for the final three races.
Bruno Senna: I'm looking forward to this weekend because India has a different atmosphere to many other Grand Prix and it's always a unique place to visit. As a new track the surface is very smooth and the layout is fast and flows well with some high speed corners which will suit our car. We should therefore be looking to improve on our performance in Korea.
NICO HULKENBERG REFLECTS ON HIS PERFORMANCE IN KOREA AND LOOKS AHEAD TO THE INDIAN GRAND PRIX.
Nico, after two strong results in Japan and Korea, you must be feeling pretty confident coming into the team's home race…
The last two races were a lot of fun and probably two of my best races of the year. Korea was pretty much a perfect weekend. I said at the start of the weekend that we needed things to be perfect and that's what we had: no mistakes, a smooth qualifying and a clean race
Since the summer break you've scored 26 points – it seems you've found the sweet spot with the VJM05…
I feel comfortable and confident in the car and the team is doing a good job. We've just got a good rhythm and momentum, and that's so important in Formula One. I've still had some tough weekends, like Monza and Singapore, but on the whole things have been going well. We just need to make sure we can repeat what we did in Korea during the final four races. We really need to stretch ourselves to get everything we can from the remaining races.
This is your first Indian Grand Prix and you're driving an Indian car – how excited are you ahead of the weekend?
I was at the first Indian race last year, but obviously I didn't get a chance to drive. I've been around the track in a road car and tried it on the simulator, but I still have a bit to learn on Friday. As a race it's as big as they come for this team. We will be in Delhi at the start of the week to meet the local media and fans and they always show lots of enthusiasm for us. I hope that we will see their support at the track with lots of fans cheering us on.
PAUL DI RESTA LOOKS AHEAD TO THE TEAM'S HOME RACE.
Paul, tell us your thoughts heading into such an important weekend for the team…
It's obviously our home Grand Prix and a special weekend. There's pressure on us to perform and clearly we need to go there ready to keep the momentum going. It's a busy week for everyone involved with the team and there's a lot going on in terms of media work and extra events, but it won't distract from our focus to come away with the best result we can.
What targets do you have in mind?
We've got to go there and qualify in the top ten. That will get us in contention and allow us to concentrate on the race. All year we've shown that we have a car capable of reaching Q3, but the grid is very close and we don't have any margin so we need everything to come together perfectly. Also, based on our performance last year, we looked quite competitive at this track so you've got to hope that will carry over for this year.
What are your thoughts on the Buddh International Circuit?
It's one of those new-style Herman Tilke circuits so there's a good mixture of corners, plenty of run-off and a few areas where overtaking is possible. We found last year that the grip built up quite quickly and the track was exciting to drive with some satisfying corners. I remember that tyre wear was quite high last year and I had to stop three times during the race, so understanding the tyres on Friday will be the priority.
Giedo van der Garde (driving FP1 in Heikki Kovalainen's car): "With each session I'm doing I'm getting more comfortable with the car and the team and the feedback I'm getting from the engineers is good, so India's another chance to build on that. It's another new track for me but one that looks cool on my simulator, and the other drivers have told me it's better than quite a few of the stop / start type of tracks so I'm looking forward to getting back out on track.
"I'm also really looking forward to going to India. I've never been before and I've always wanted to go to India, plus I'm a big fan of spicy food so it'll be a chance to have a completely new experience, on and off track."
Heikki Kovalainen,: "It's our second time racing in India and I'm excited about getting back there. Last year I think we were all impressed with what they did with the circuit – the layout was really good, an interesting mix of elevation changes and different types of corners, not what we've seen at a lot of the newer circuits so one I think we all enjoyed.
"Performance-wise I think we're all realistic about what we can do in India, but that doesn't mean we're not working as hard as we can to keep progressing. The guys behind us are putting up a good fight and, while we have clear air between us on track, we need to make sure we keep that gap, and, where possible, take advantage of anything that happens ahead."
Vitaly Petrov,: "The Indian track is one of the good ones. It's pretty smooth, nice and wide, so you can take different lines into some of the corners, and it has a couple of really good corners like the double left turns five and six which you come into quickly, and then braking for the chicane through seven, eight and nine. The track surface itself is pretty similar to Korea. It will evolve a lot over the weekend and you'll see times coming down as the grip levels improve but, as with the whole year, managing the tyres is going to be really important. In Korea we didn't have as much track time in the practice sessions as we'd have liked, so one of the main objectives will be making sure we get as many laps done as possible so we go into Sunday knowing as much as we can about the tyre behaviour over a race distance."