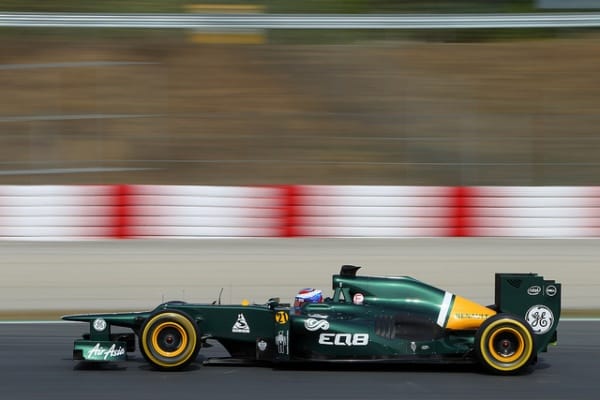 CATERHAM F1 TEAM CONFIRMS GIEDO VAN DER GARDE & ALEXANDER ROSSI FOR ABU DHABI YOUNG DRIVER TEST
Caterham F1 Team has confirmed that it will be running its current Reserve and Test Drivers at the forthcoming Young Driver Test in Abu Dhabi, taking place at the Yas Marina Circuit from 6th – 8th November. 27 year old Reserve Driver van der Garde will be in the car for days one and two of the test with 21 year old Test Driver Rossi taking over for day three.
Cyril Abiteboul, Caterham F1 Team CEO: "We are delighted to be running both Giedo, our Reserve Driver, and Alexander, our Test Driver, at the Abu Dhabi Young Driver Test in November. With all the drivers we work with we want to make sure they can see that we can help guide them along a clear path to the top of the motorsport industry. On top of the FP1 sessions both drivers have already run for us, giving both Giedo and Alexander the chance to also test with us in Abu Dhabi is a good example of our ongoing commitment to helping develop talented drivers achieve their long-term goals.
"Giedo has had a very strong year with our GP2 team Caterham Racing, winning twice, in Spain and at the season finale in Singapore, and recording two podium finishes at the showpiece event in Monaco. Alexander has had a decent season with Arden Caterham in Renault 3.5, one of his highlights also coming in Monaco where he finished fifth. Picking Giedo and Alexander for the Abu Dhabi test is a good reward for their hard work in 2012, but it also gives us two drivers who know the team, understand how to get what's needed from the cars and are familiar with the circuit – the best of all worlds for us in what will be an important test."
Giedo van der Garde: "By the time we get to the Young Driver Test I will have completed several FP1 sessions  with the team and it will be good to be able to extend that more with two full days in the car. I'm sure it will be a very busy couple of days but I want to make sure I continue to learn as much as possible and do what I can to help the team have a useful few days testing before the last two races of the season. I believe I have benefited enormously from the work I have been doing with Caterham this year, in both GP2 and with the F1 team, and the chance to drive in Abu Dhabi is another positive step in the right direction for my career as a professional racing driver."
Alexander Rossi: "I want to thank Caterham F1 Team for the opportunity once again to take part in the Young Driver Test in Abu Dhabi. I've had a good year with the team as Test Driver and, on top of the FP1 I did in Spain, this is another chance to add more F1 experience at a track I know well, having raced there several times in the past. Every time I have worked with the F1 team since I joined the Driver Development Program in 2010 I have had all the support I need to do the best job I can when I am in the car and the team's commitment to helping me develop, in all areas of my racing career, is a very positive sign that they believe in me and want to help me reach the very top of my sport. For the Abu Dhabi test I've already had several conversations with the engineers about what is planned and it's definitely going to be busy, but I was comfortable in the CT01 earlier this year, and very prepared mentally and physically, so now I'm just looking forward to getting in the car!"