FERRARI'S 2014 CHALLENGER THE F14 T IS UNVEILED IN MARANELLO—
Drivers Fernando Alonso and Kimi Raikkonen were on hand as the Scuderia's latest Formula 1 challenger was revealed to the world – the F14 T being their response to Formula 1's radical technical overhaul.
Over a million votes were cast in naming the car but Ferrari will be relying on more than fan power if they're to make a strong impression, particularly early on in the season.
They have been notoriously slow starters in recent years and although none of their rivals anticipates being quick out of the starting blocks given the array of challenges posed by the switch to 1.6-litre V6 turbo engines and more powerful energy recovery systems, Ferrari are bound to be conscious of their position.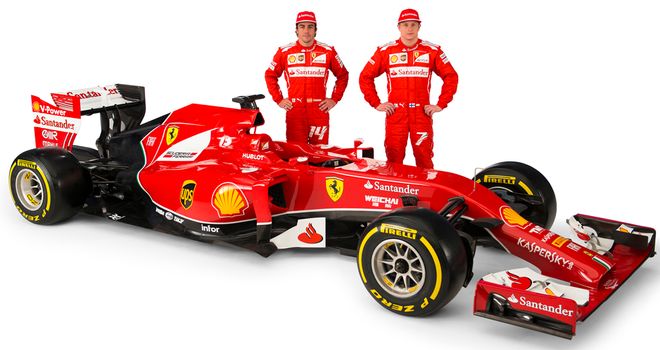 The F14 T will be piloted by Fernando Alonso and Kimi Raikkonen this year – Picture courtesy of Ferrari
On the plus side, there's the opinion that 'works' teams such as Ferrari and Mercedes will hold an advantage in the race to understand and develop their cars. However, there has also been a feeling in the paddock that the German manufacturer and Renault will deliver more competitive power units.
A particular Achilles heel in recent seasons has been Ferrari's chassis – as a consequence of their windtunnel, the predictions of which have failed to match up with track performance.
However, after a period spent using a facilty owned by Toyota Motorsport while their own windtunnel was being recalibrated, it is now up and running again.
Furthermore, Ferrari last year secured the services of James Allison, who had overseen Lotus's strong performances during the past few seasons, who returned to Italy to take the role of Chassis Technical Director.