Daniel Ricciardo wins in Canada!
DANIEL RICCIARDO: 
"I'm a grand prix winner! I think it still seems a bit surreal to be honest, just because it all happened so quickly at the end. I was third for a while and then it all happened in a really exciting fashion. Once I got past Perez I knew I just had to drive clean and get in Rosberg's DRS zone and, from then on, it was just awesome. Finishing under the safety car made it a bit weird, but I wanted to make sure the two drivers who were in the accident were okay before I started celebrating. We achieved a great result today with first and third – so let's enjoy it – but we will still have some work to do also. This will motivate the guys to work even harder and find even more, so I'm sure it will keep coming even better for us at the next few races."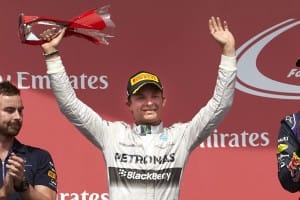 Nico Rosberg,
That was a big battle all the way through today! I had a tough start but I was able to defend in the first few corners and fight against Lewis. The race went smoothly for a while then both cars suddenly lost the MGU-K system and a lot of power which was really tough. Then I lost some time in the second pit stop which let Lewis jump me and I was struggling to cool the rear brakes down so it was all happening. Towards the end of the race, I tried to defend against Sergio which was fine but Daniel was too fast on the straights with much more power than I had available and he was able to get past. With so much going on, I had to ask my engineer where I finished at the end as I thought I was probably about fifth or sixth. I was so happy to hear that I was in P2! They are important points for me in the championship, so it was a tough but ultimately good day. Congratulations to Daniel for his first Formula One win.