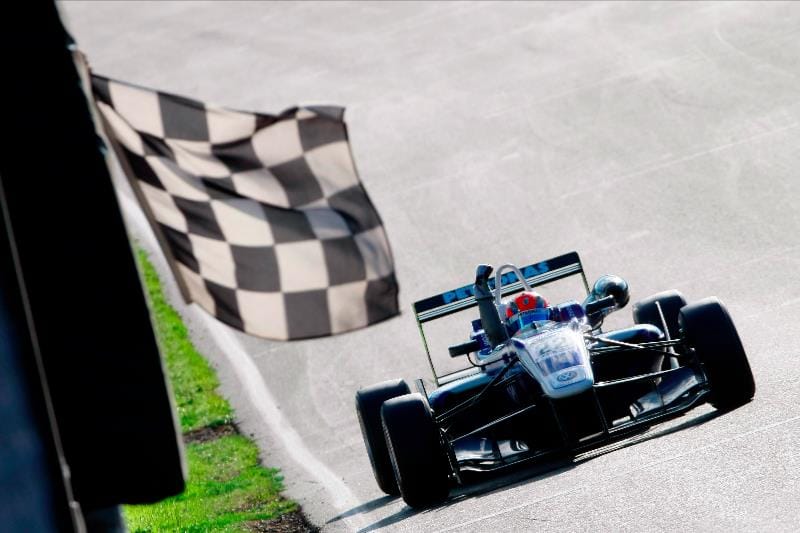 JAAFAR DOUBLES UP AS KING TAKES CONTROL IN THE POINTS – 
Fortec's Felipe Guimaraes' first win in the Cooper Tires British Formula 3 International Series and a Carlin 1-2-3 in the second race of the day were the key highlights from the two superb races today (Sunday) at Brands Hatch.
 
Carlin's Jazeman Jaafar became the first man to win two races in a weekend with his victory in the final race of the day, and as the series packs its bags for the finale in Germany (21/22 Sept) it is Carlin's Jordan King who leads the Championship standings after a tricky weekend for previous points leader, Will Buller (Fortec Motorsport).
 
Ed Jones's two victories enabled him to close up the gap to CF Racing's Sun Zheng, the West-Tec man won twice today, narrowly missing out on a Brands Hatch clean sweep.
 
King was also voted the Mobil Service Centre Master of the Weekend for his driving and progression across the whole of the Brands Hatch meeting. He now joins Will Buller and Sun Zheng as the British F3 representatives in the 2013 Mobil Service Centre Master of Year competition.
 
Race 8 
The second Cooper Tires British Formula 3 International Series race at Brands Hatch saw a new winner in Brazlian Felipe Lopes Guimaraes for Fortec Motorsport, while Ed Jones recovered from the back to win the National class.
Guimaraes took advantage of a poor start for pole-sitter Tatiana Calderon to inherit second place, but that became the race lead after Will Buller repeated his opening race blunder with another jump start. The championship leader's subsequent drive-through penalty dropped him down the order to eighth place, where he then launched a recovery drive.
His team-mate Guimaraes inheritted a lead of over three seconds from Jann Madenborough and the fast-starting Antonio Giovinazzi after Buller served his punishment, Giovinazzi keeping Mardenborough under pressure during the first half of the 30-minute race.
The Double R man then took advantage of a mistake around the GP loop for Mardenborough, the Carlin driver dropping from second to fifth as his team-mates Jazeman Jaafar and Jordan King picked up the pieces to move up to third and fourth.
Guimaraes had gapped his opposition sufficiently enough to hold a five-second lead by the time Giovinazzi had moved up to the runner-up spot, the Fortec man taking a first win in the Championship by 2.6 seconds.
Yesterday's race winner Jaafar claimed a second podium of the weekend ahead of Carlin team-mates King and Mardenborough, King the biggest gainer in the championship after Buller was demoted to ninth by a 30-second penalty for not respecting track limits, something also slapped to Nicholas Latifi's race time.
Buller made his way past several drivers up to fifth ahead of Mardenborough, but after his penalty finished behind the Double R Dallara-Mercedes duo of Sean Gelael and Calderon, as well as National class winner Jones, the West-Tec driver recovering from the back of the grid after clutch problems put him out of race one.
Jones caught and passed class point leader Sun Zheng to equal the CF Racing driver's win tally of four in the class, Cameron Twynham finishing third in class while Chris Vlok was the only non-finisher.
The third and final race of the way sees Jaafar start on pole position ahead of team-mate King, the race getting underway at 16:50 later this afternoon.
*Upon further video evidence, the penalties for Buller and Latifi were rescinded
Cooper Tires British Formula 3 International Series 
Round 3, Brands Hatch GP Circuit (11/08/2013) 
Race 8, 23 laps 
1  Felipe GUIMARAES / BRA, Fortec Dallara-HWA Mercedes  30:51.983
2  Antonio GIOVINAZZI / ITA, Double R Racing Dallara-HWA Mercedes  +2.609
3  Jazeman JAAFAR / MAL, Carlin Dallara-Volkswagen  +13.063
4  Jordan KING / GBR, Carlin Dallara-Volkswagen  +17.290
5  Jann MARDENBOROUGH / GBR, Carlin Dallara-Volkswagen +19.918
6  Sean GELAEL / INA, Double R Racing Dallara-HWA Mercedes  +27.889
7  Tatiana CALDERON / COL, Double R Racing Dallara-HWA Mercedes  + 38.515
8  Ed JONES / GBR,  Team West-Tec Dallara-Toyota  +44.396
9  Will BULLER / BGR, Fortec Dallara-HWA Mercedes  +50.279 (penalty rescinded – finished 4th)
10 Nicholas LATIFI / CDN, Carlin Dallara-Volkswagen  +1:00.390 (penalty rescinded – finished 6th)
National class:
1  Ed JONES / GBR,  Team West-Tec Dallara-Toyota  31:36.379
2  Sun ZHENG / CHI,  CF Racing Dallara-NBE  +19.072
3  Cameron TWYNHAM / GBR,  Team West-Tec Dallara-Toyota  +21.569
Full results: http://bit.ly/15qjqgh
 
Race 9 
Jazeman Jaafar's return to the Cooper Tires British Formula 3 International Series at Brands Hatch ended in the way it started with victory in the final race of the weekend ahead of team-mate Jordan King, while Ed Jones kept his National class title hopes alive with his second success of the weekend.
Jaafar was dominant as he led a Carlin 1-2-3 in the third and final race at the Brands Hatch GP circuit, while an incident on the second lap eliminated championship leader Will Buller from a top points position, which enabled second-place finisher, King to take the points lead heading into the final round of the season at the Nurburgring.
A perfect getaway for Jaafar set the Carlin man on course to victory, opening a gap of over three seconds before King began to steadily trim the gap to his Carlin team-mate.
The British driver cut the lead cushion to under a second to set up a tense final 15 minutes to the race, but – despite one opportunity while lapping backmarkers – he was not able to find an opportunity to pass the Malaysian around the tight and twisty Brands Hatch circuit.
Nicholas Latifi made it a podium sweep for Carlin with a distant third spot, comfortably ahead of race two winner Felipe Guimaraes who survived a tangle on the second lap of the race that crucially involved team-mate Buller.
Guimaraes, Buller and Double R's Antonio Giovinazzi all fought for the same piece of track heading into Druids corner, Guimaraes escaping as they approached Graham Hill Bend where Giovinazzi clattered into the side of Buller's Dallara-Mercedes. Giovinazzi retired on the spot with right-front suspension damage, while Buller could only limp back to the pits before returning to the track on his way to finishing down in 12th place overall.
The incident also allowed Jann Mardenborough to recover lost ground after a slow start that dropped him to seventh, the Carlin man finishing fifth by the race's conclusion ahead of the sole-remaining Double R cars of Sean Gelael and Tatiana Calderon.
Eighth place was the finishing position of National class victor, Ed Jones, who matched his race two result by winning ahead of Cameron Twynham and Chris Vlok.
The West-Tec driver also survived a clash with championship rival Sun Zheng during their battle for the class lead, the CF Racing driver climbing over the rear of Jones' Dallara-Toyota and into an early retirment.
Attention now turns to the final round of the 2013 British F3 International Series, with three races at the Nurburgring GP circuit left to decide the title on September 21-22.
Quotes:
Jazeman JAAFAR, Carlin Dallara-Volkswagen (First in race 3)
"It's been a perfect weekend really, I couldn't ask for more. In practice we gradually built ourselves up and then in qualifying it all came together. The race pace is something that I have enjoyed; Jordan has really pressured me but all in all the team did a fantastic ob and the car's evolved a lot from last year."
Jordan KING, Carlin Dallara-Volkswagen (Points leader)
"First of all it was a really good start and I got fully alongside Jaz going into turn one, but going around the outside isn't easy with lots of marbles out there. The first couple of corners were a bit tight, but then Jaz started to edge away for the first five laps. Then I closed him down to within touchhing distance and I did actually touch my nosecone on his rear wing. After that I just backed off and stayed off the kerbs to make it around."
"It sounds obviously a lot better leading the championship, but it's the first time I've been in the lead of the championship but it doesn't change anything. You've still got to qualify on the front row and win races.
"Hopefully in Nurburgring I can get a double pole like at Silverstone and we'll see how it goes."
Ed Jones, Team West-Tec Dallara-Toyota
"Coming back to win has been great for the team, unfortunately we had a few problems in practice and then race one, but today everything has gone smoothly. I didn't have such a good start off the line and made my my back through until passing Zheng going into Druids; he must have locked up and went over the top of me. From then on it was a bit of a race for myself really."
Cooper Tires British Formula 3 International Series
Round 3, Brands Hatch GP Circuit (11/08/2013)
Race 3, 23 laps
 
Provisional results International class
1  Jazeman JAAFAR / MAL, Carlin Dallara-Volkswagen  30:53:310
2  Jordan KING / GBR, Carlin Dallara-Volkswagen  +5.477
3  Nicholas LATIFI / CDN, Carlin Dallara-Volkswagen  +7.464
4  Felipe GUIMARAES / BRA, Fortec Dallara-HWA Mercedes  +25.431
5  Jann MARDENBOROUGH / GBR, Carlin Dallara-Volkswagen +25.814
6  Sean GELAEL / ITA, Double R Racing Dallara-HWA Mercedes  +36.558
7  Tatiana CALDERON / COL, Double R Racing Dallara-HWA Mercedes  +51.142
8  Ed JONES / GBR,  Team West-Tec Dallara-Toyota  + 1:08.268
9  Cameron TWYNHAM / GBR,  Team West-Tec Dallara-Toyota  +1 lap
10 Peter Zhi CONG LI / CHN,  Carlin Dallara-Volkswagen  +1 lap 
Provisional results National class:
1  Ed JONES / GBR,  Team West-Tec Dallara-Toyota  32:01.578
2  Cameron TWYNHAM / GBR,  Team West-Tec Dallara-Toyota  +1 lap
3  Chris VLOK / NZL,  Team West-Tec Dallara-Toyota  +1 lap