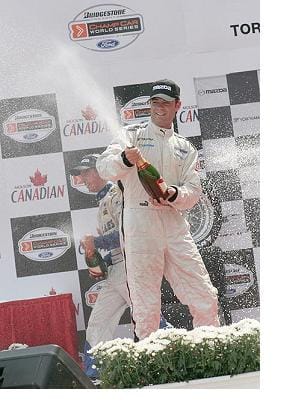 F1weekly podcast number 560
This week's special Interviews:

Jonathan Bomarito an American racing driver from Monterey, California.
After much success in karting and two years driving in Grand-Am Cup, Jonathan Bomarito moved to Formula Ford 2000 USA in 2003 and won the championship. The next year he moved to the Atlantic Championship and finished 9th in points. The following year he captured his first series win and finished 5th in the championship. 2007 saw him finishing 5th again, winning at San Jose. In 2008, he was the Atlantic Series runner-up, capturing 3 victories. He also drove in the last three Rolex 24 Hours of Daytona, 2008-'10, in the SpeedSource team's Mazda RX-8, competing in the Rolex GT class. He won this year's event, sharing the car with Sylvain Tremblay, Nick Ham and Dave Haskell. Bomarito will continue competing in Mazda #70 with Tremblay, as they compete for the 2010 Rolex GT Series crown.
Bud Moeller  is a Formula One race car driver in North America and Europe, racing in Historic Grand Prix and Ferrari's F1 Cliente program. Bud Moeller's fascination with Ferraris goes back to the days of Ferrari great Niki Lauda, one of his heroes back in the 70's. "He was a driver who not only won world championships, but had a crash that nearly ended his life, and came back and won yet another championship after that. Phenomenal," says Moeller. At age 26, Moeller bought his first Ferrari — a 308 for weekend use — with a partner. Moeller had 3/4 of the car, therefore he got the use of it three weekends of the month. "It worked out just great for both of us. We were able to do something we couldn't have done alone." Since then, Moeller has had a Ferrari in the garage almost continuously. "I got the bug very early," says Moeller. "Once it's in your blood, it stays." Since then, the Ferraris he's owned include two Daytonas, two Boxers, a 330 GTC, and a 355; he currently owns a 550 Maranello and has just received a brand new 360 Spider.
[audio:http://www.podtrac.com/pts/redirect.mp3/mp3.f1weekly.com/podcasts/03-15-12f1weekly560.mp3]