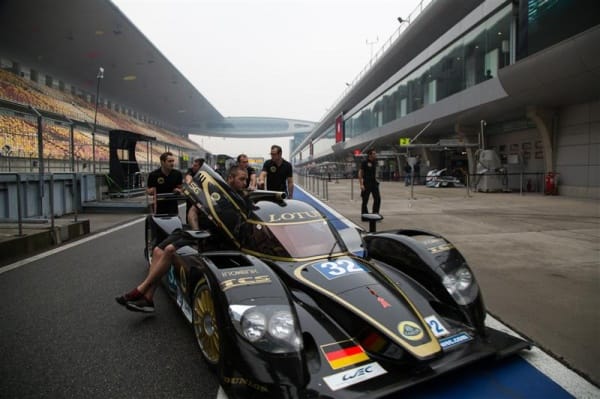 6 HOURS OF SHANGHAI, FIA WEC FINALE…
Teams participating in the inaugural edition of the FIA World Endurance Championship (WEC) have made their way to China for the deciding race of the series, the 6 Hours of Shanghai. Racing is set for this Sunday and 28 teams are expected on the start grid for the title-awarding, final endurance challenge of the season.
The 2012 FIA WEC was comprised of eight races run on three continents and, inspired by its cornerstone race Les 24 Heures du Mans, this series represents the highest global level of modern endurance racing. Rolex is proud to support this groundbreaking international trial of team precision, passion and stamina.
LMP1: TOYOTA TAKES ON THE AUDI CHALLENGE
At stake in the series are multiple FIA trophies, including the coveted Endurance Champion LM P1 Manufacturer title, to be awarded following the 6-hour showdown in Shanghai. Current standings for the LM P1 Manufacturers show Audi on top with an unbeatable 191 points, followed by Japanese rival Toyota with 70 points.
Toyota has a storied past in endurance racing, with their first involvement in the FIA World Endurance Championship dating back to 1983. This marked the start of a long period of involvement in the sport that included several editions of the famed 24 Heures du Mans. This year was particularly special because, following a 12-year hiatus, the 2012 season has marked Toyota's return to the endurance-racing scene.
Although the original plan for the team was to compete in selected races only, Toyota stepped up their game in order to fully compete on the manufacturer platform with Audi. Toyota has since given the German manufacturer a run for their money having already taken two podiums in five races, most notably at their home track during the last WEC race in Fuji, and is slated as the favourite for the race here in Shanghai. "It has been an emotional and successful first season in the FIA World Endurance Championship for TOYOTA Racing," said Team President Yoshiaki Kinoshita. "We have achieved more than we expected [and] to be able to compete with a competitor as strong as Audi in such a short timeframe is a great credit to all involved in the project. Now we look forward to the final race of this exciting season and we want to finish with a strong performance."
SEEKING WORLD CHAMPIONS: ENDURANCE REQUIRED
While all eyes will be on the LM P1 Audi-Toyota challenge, every team and driver participating in the 6 Hours of Shanghai will have to perform their best in order to take home a FIA World Champion title. Beyond the LM P1 Manufacturer Award, titles in each category (Private LM P1, LM P2, LM GTE Pro, LM GTE Am and LM GTE Manufacturer) will be awarded here in Shanghai following Sunday's race.
Current standings see Rebellion Racing (CHE) leading the Private LM P1 category, with the winning title in their name all but guaranteed as Rebellion has a 47-point lead over their next closest rival, Strakka Racing (GBR). The LM P2 trophy title is in a similar situation, with Starworks Motorsports (USA) heading up their category with an unbeatable lead (159 points), while the second place position is up for grabs between Pecom Racing (ARG) and ADR-Delta (GBR), two teams currently tied with 129 points each.
In the LM GTE categories there are still some things to be decided. While the Pro category title has been determined pre-race, along with the LM GTE Manufacturers' Cup, the LM GTE Am championship title is still up for the taking. AF Corse (ITA) leads the Pro category with a solid 186 points and their closest rivals are separated from one another by just one point, with Aston Martin Racing (GBR) at 116 and Team Felbermayr-Proton (DEU) at 115.  In the LM GTE Am category, Larbre Competition (FRA) is in the top position with 154 points, separated from the current second place team, Team Felbermayr-Proton (DEU), by only 20 points, ensuring tight competition for the Am championship title. In the Manufacturer category the fight for the world endurance title will more than likely go to Ferrari, currently at the top of the standings with 310 points, while Porsche will likely take second (196 points).
A FINAL FACE-OFF FOR THE ENDURANCE CROWN
Having come full circle, the FIA WEC series now comes to a close in Shanghai, China's economic capital, where participating teams will partake in the final showdown to determine this year's world endurance champions. All of the action for the WEC finale will take place at Shanghai International Circuit in the Jiading District of Shanghai. Completed in 2004, this track is widely known as the main Chinese hub for Grand Prix racing, and the 6 Hours of Shanghai represents the arrival of a new kind of competition at this famed location: endurance racing.
Today saw the start of Scrutineering on-site and drivers had an opportunity to walk the track ahead of tomorrow's Free Practice Sessions (10:35 – 12:05 and 15:30 – 17:00). Qualifying will take place on Saturday and the race start is set for Sunday at 11:00 local time.