Yin-Yang from Yeongyam
Photo: AFP
Korean cuties: After much concern whether the inaugural Korean Grand Prix will take place, the dust has now settled on the event. The Tilke-designed Korean International Circuit has seating capacity for 130,000 race fans; they get a good view of the circuit and the pit lane.
The rain delayed race turned the championship fight into a new battle for the remaining two races. Sebastian Vettel's chances of becoming the youngest world champion flamed out with an engine-kablamo. Defending champion Jenson Button suffered his own Korean crisis and failed to finish in the top ten.
Photo: AP
Jumping Jack Fernando: Unloved at McLaren but showered with full affection and 'amore' at Scuderia Ferrari, Spaniard Fernando Alonso now leads the championship after win number three in the last four races. He may now enjoy the support of three drivers in his quest for third world title; Massa, fully aware since Hockenheim that he drives for 'the team', and the two Red Bull drivers; the Austrian-owned team still maintains both drivers are free to fight for the championship.
The Woking civil war of 2007 handed the world championship to a red brigade warrior. If the internal-meltdown continues in Milton Keynes and Webber is not made the Mark-ed man for championship, history may repeat itself in the season finale at Abu Dhabi.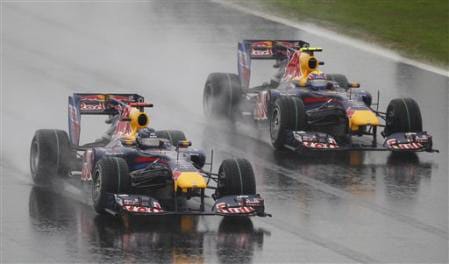 Photo: AP
How to win races and throw away a championship: This priceless motorsports novel was first released in 1986 by Williams Grand Prix Publishing, co-authored by Sir Frank Williams and Patrick Head. Set in Australia on a good year that exploded into disaster, which only a Professor can explain.
The second version of this hard to believe but fact based novel was released in late 2007 by Woking WordPress. The family feud came live to a worldwide audience in Budapest. The final chapter was written, he prefers not to speak anyway, by the man who came in from the cold, as in Espoo, Finlandia cold.
The third iteration of this novel, The 2010 Red Bull Bulletin, may go to press immediately after the season finale on November 14 in Abu Dhabi. The corporate slogan is "Red Bull Gives You Wings." The slogan turned into corporate shenanigan at Silverstone, at least in the mind of Mark Webber.
If you have the best package all season long, with both drivers dominating qualifying and races, and you still do not win the championship there is something terribly wrong with the picture.
Yes, Vettel has been their baby since he was in diapers but racing reality is very clear; Mark Webber depends on their support as he is most likely their only hope of preventing a driver from a rival team from becoming world champion.
Webber, "not bad for a number two driver," and after years in uncompetitive machinery, will be a very deserving world champion. The class act he is, Red Bull can count on him to return the favor next year and help "Seb" weave his own web on a world title.
Photo: AP
Rubinho: He has been on four wheels, two legs and now two wheels.
The Brazilian again had some issues with his former Ferrari teammate, Michael Schumacher, during qualifying. The most experienced driver in F1 always mange to smile in all situations.
— Nasir Hameed
Racing and deep kimchi regards from Cali.
P.S.
Photo: Reuters
Jenson and excess baggage.
Photo: Reuters
"My brother is very famous."
[audio:http://www.podtrac.com/pts/redirect.mp3/mp3.f1weekly.com/podcasts/10-26-10f1weekly467.mp3]