F1, GP2 & GP3 start their European campaign in the Asian part of Istanbul
Photo: Yahoo/Eurosport
Istanbul may have been Constantinople, but Turkey's greatest city and once the home of mighty Ottoman Empire, still lies on two continents. It is on the Asian side of Kurtkoy area where Hermann Tilke's masterpiece is located, the Istanbul Motorsports Park.
The magnificent Turn 8 and elevation changes seem to overshadow poor attendance, and the natives are now getting restless about the $25m plus renewal fee being requested by Mr. E.
Good news is the sun will come up tomorrow, despite the threat of rain, and the grid will be determined for Formula 1 and its 'official feeder series' GP2, which in turn, since last year, has its own 'feeder series,' the GP3.
Formula 1
It was here last year that Red Bull experienced runaway in-house stampede after Sebastian Vettel ran into teammate Mark Webber while battling for the lead. The names are reversed if you happen to be sipping the energy drink while listening to the version of their Motorsports Maestro, Dr Helmut Marko.
In the end Red Bull did give little wings to their German wunderkind who last year in Abu Dhabi erased Lewis Hamilton's name as the youngest Formula 1 World Champion.
Hamilton returned the favor last time out in China and prevented a Vettel triple play to start the 2011 season.
Mark Webber's tremendous drive to a podium finish in Shanghai has raised hope Vettel will have more than Hamilton to worry about in search of his Turkish delight.
Jenson Button last year had two wins early in the season after moving to the "House of Hamilton" before Lewis landed a victory. The 2009 World Champion is known for his smooth style and not-so-many mistakes per season as his illustrious teammate. Button will be a strong candidate for victory on Sunday, especially if the race is run in changing conditions.
Ferrari. With rumors now flying that Felipe Massa may move to another team before his contract expires in 2012, teammate Fernando Alonso does not need a text or voice message from Rob Smedley to know his position in the team. The two time world champion is eager to get his hands on a competitive package before it is too late to mount a charge for the championship.
Renault will continue to miss Robert Kubica until they win a race this season. Comrade Vitaly Petrov has shown flashes of brilliance and crashes of inexperience but his podium finish in Australia must have given him high confidence he can deliver for Mother Russia and Genii Capital. His vastly experienced teammate and Kubica's replacement, Nick Heidfeld, is in search of that elusive first F1 win and, with a little help from mother nature and some lucky breaks in a race, could make it to the top of the podium this season if not in Turkey.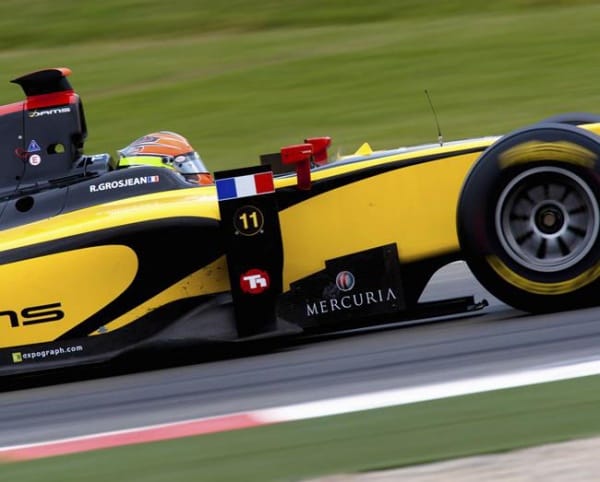 Photo: GP2 Media
GP2
French Revolution. It is hard to imagine anyone but Romain Grosjean or Jules Bianchi winning the GP2 Championship this season. The tone was set in the shortened GP2 Asia Championship earlier in the year. Bianchi won the opening race in Abu Dhabi, and Grosjean clinched the title with victory at Imola Yes, the GP2 Asia raced in Europe thanks to the political upheaval in Bahrain.
Grosjean raced and won in main GP2 series before replacing Nelson Piquet Jr in the Renault F1 team. Bianchi's rookie season was last year; he was impressive despite going winless. Both understand the importance of winning the championship in their second year.
British driver Sam Bird was Bianchi's teammate last year and took his maiden win at Monza. He is most likely to disrupt the expected Grosjean/Bianchi French march.
Other drivers hoping to impress in their second year include Swede Marcus Ericsson and Swiss Fabio Leimer, both won races in Spain last year, Ericsson in Valencia and Leimer in the season opener at Barcelona.
Time may be running out for GP2 veterans like Luca Filippi and Davide Valsechhi of Italy, and Dutchman Giedo van der Garde.
Esteban Gutierrez is among the top rookies and may surprise a few. His teammate at Lotus ART is Bianchi.
Photo: GP3 Media
GP3
It was Gutierrez who went down in history last year as the winner of the inaugural GP3 Championship. While Gutierrez and talent like Alexander Rossi and Robert Wickens have moved on, the new crop is very talented and the winner of this year's championship will stand out as one of the top talents of the season in junior formulae.
Advantage in handling the turbo-powered neat looking cars will be with second year drivers. Leading the charge is Nico Muller. He quietly won races last year and finished a very impressive third in the overall standings. Much is expected of Muller this year and smart money will be on the Swiss to deliver.
Dutchman Nigel Melker was quick but winless last season. He is expected, along with Indonesian Rio Haryanto, who won in Turkey last year, to be among the front runners all season long.
The 2011 GP3 rookies are that only in name and it will not come as a big surprise if one of them takes the title.
Valtteri Bottas, shown in photo above, won the Formula Renault Euro Cup over Daniel Ricciardo in 2008 and was Rookie of the Year in the 2009 Formula 3 Euro Series. Now a Williams's test-driver, the Finn has the speed and experience and a nice personality to make him a popular champion.
Alexander Sims has been battling Bottas the last few years and their rivalry will be worth watching in GP3 this season.
— Nasir Hameed
Greetings and Byzantium regards.