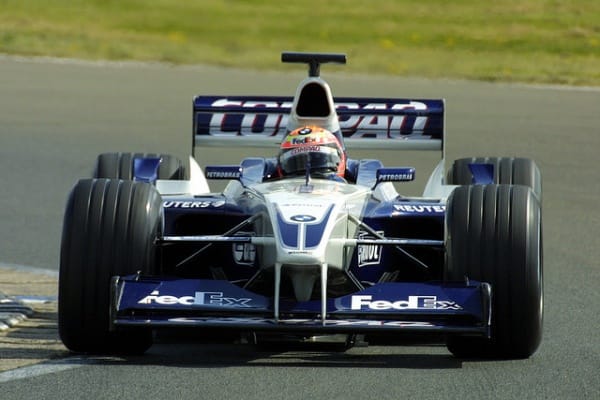 F1weekly podcast number 580
Interview with Jungle Boy Antonio Pizzonia.
From 1991 to 1996 he competed in various karting series. In 1997 he moved to Britain and competed in Formula Vauxhall Junior; Pizzonia placed second, and won the Winter Festival. In 1998, in addition to taking the Championship in F-Vauxhall Junior, he won the Formula Renault Winter Festival. His 1999 season was even more successful, winning the British F-Renault series and finishing second in its European counterpart. In 2000, Pizzonia took 5 wins on his way to winning the British Formula Three Championship.
For 2001, Pizzonia switched to the Formula 3000 series, winning one race and finishing sixth in the championship.
In 2002, Pizzonia was hired as test driver for Williams, but also continued in F3000, placing 8th. After impressive testing performances, he was signed by the Jaguar team to partner Mark Webber for 2003. However, following a string of poor results, he was dropped midway through the season and replaced by Minardi's Justin Wilson.
Whilst driving for Jaguar F1 he was driving Steve Sutcliffe, a journalist for Autocar magazine, around the Jerez racing circuit in a Jaguar S-Type R when he lost control into the first corner, rolling the car and hitting the tyre barrier. Apparently he accidentally braked at the braking point he had been using in his F1 car and just went off. The video is readily available on Youtube.
In 2004 he returned to Williams as test driver. Before the German Grand Prix, it was announced that Pizzonia would take over from Marc Gené, who had been filling in for the injured Ralf Schumacher. At the German Grand Prix, he finished 7th to take his first 2 career points; he repeated the feat at the Hungarian Grand Prix. In Belgium, he briefly led an F1 race for the first time, but failed to finish the race due to mechanical problems. He claimed a further 2 points in Italy (during which he achieved the fastest ever recorded top speed in a F1 race at the time, 369.9 km/h, until Juan Pablo Montoya eclipsed this record the following year), but with the announcement of Ralf Schumacher's return for the Chinese Grand Prix, Pizzonia's racing was over for the year.
Prior to the 2005 season, Pizzonia was in a virtual shoot-out with German Nick Heidfeld for the second race seat at Williams alongside Webber. Despite Pizzonia's experience with the team and financial support from Petrobras, Heidfeld was given the seat.
Pizzonia was still employed at Williams as a test driver, and when Heidfeld complained of headaches after being concussed in a crash during the Friday Practice Session at Monza, Pizzonia gained the chance to race. Having not entered an F1 race since the 2004 Italian Grand Prix, the Brazilian qualified 16th, coming through the field to emulate his 2004 race result — picking up 7th place and 2 points. He then raced in the Belgian Grand Prix. where he incurred a fine for taking out 2nd placed Juan Pablo Montoya just a few laps from the end. Pizzonia also took the drive in the Brazilian Grand Prix, but his race was over before the first corner after taking out his own teammate Mark Webber resulting from a collision with David Coulthard.
Despite some speculation that GP2 champion Nico Rosberg would be given an opportunity in the last two races of the season, Pizzonia completed the season for Williams. He retired from the Japanese Grand Prix early after spinning off, and retired from (but was classified as a finisher in) the Chinese Grand Prix after a puncture. Having been replaced by Nico Rosberg for 2006, Pizzonia's Formula One career was over.
In 2006, he drove for Paul Gentilozzi's Rocketsports team in the Champ Car World Series' Long Beach Grand Prix and returned to the team towards the end of the season for races where Tõnis Kasemets did not have sponsorship to race.
In 2007, Pizzonia was racing for Fisichella Motor Sport in the GP2 series. In May, he was dropped in favour of Adam Carroll after only scoring 1 point in 5 races. After that, he returned to Brazil and entered into competition in Stock Car Brasil, a Brazilian national championship, from July. He has remained in Stock Car Brasil for 2008, and is also set to race in the new Superleague Formula championship after missing the first round.
[audio:http://www.podtrac.com/pts/redirect.mp3/mp3.f1weekly.com/podcasts/06-02-12f1weekly580.mp3]